My two favorite pies? Pumpkin and pecan. Or, pecan and pumpkin. It's so hard to choose which one to eat when I find myself standing in front of both at the Thanksgiving dessert table. I wasn't thinking about solving this delightful dilemma, (Why not just have one of each? Yes, please!) but that's what this recipe is. A delicious combination of fall's two greatest desserts.
Pumpkin Crunch Cake
1 can (15 oz) pumpkin
1 can (12 oz) evaporated milk
3 large eggs
1 1/2 cups sugar
1 t. cinnamon
1 t. pumpkin pie spice (I don't really know how much I added)
1/2 t. salt
1 box yellow cake mix
1 c. pecans, chopped (I used whole pecans, and they were delightful)
1/2 butter, melted (this is half of what the original recipe used, but I couldn't justify a whole cup; also, I mixed the melted butter in with the pecans, and it didn't hurt the recipe, but I think it is supposed to help with the cake, too)
Cool Whip
Preheat oven to 350 degrees. Combine pumpkin, evaporated milk, eggs, sugar, spices, and salt in a large bowl. (I used my mixer for this step.)
Pour into a greased 13×9 baking dish.
Run cake mix through a sifter to get lumps out and sprinkle dry cake mix evenly over pumpkin mixture. Top with pecans. Drizzle melted butter over pecans. Bake for 50-55 minutes or until golden brown. Cool. Serve chilled (or warm, though chilled is better). Top with a dollop of whipped topping.
Enjoy!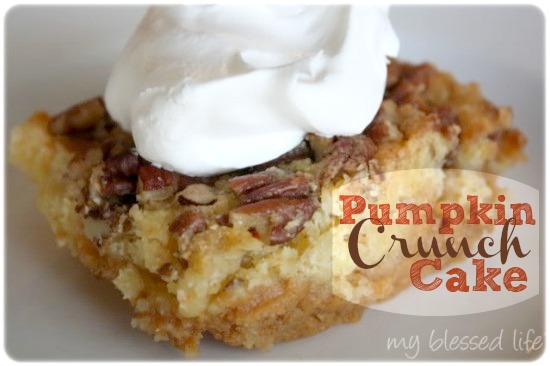 Found the recipe here.